Top 10 Essential Tips for Train Travel in Europe
March 03, 2018
Europe has one of the best-connected rail-networks in the world; almost every part of the continent can be reached via trains. Europe train trips are often
picturesque
- railing through beautiful landscapes and conveniently
bring you to the heart of the city
(unlike airports which are usually miles away from the city center). Train travels are also one of the most
peaceful, relaxed and cost-effective
ways to travel.
However, there are a few key essentials that you need to take attention - for getting the most out of your European rail journey. Here are 10 tips to help you plan and enjoy a seamless trip.
1. Reservations Vs. Buying Tickets at the Station
Unplanned, On-the-Go plans are always handy; there's no match for the flexibility and creative spontaneous changes you can accommodate. But remember, they are not always comfortable nor economic! Especially
during the summer months, you'll lose a lot of time and money if you bang on on-the-go tickets
at stations.
I would advise you to buy the tickets always in advance. Usually, you can book the tickets 60 days in advance (some Eurostar tickets can be purchased even 4 months in advance). There can be a considerable saving too if you buy them earlier. For example, a normal one-way ticket from Amsterdam to Paris is usually around $45. But the same can cost $100 a few days before the travel and can go crazy upto $175 on the same day of travel, during peak periods!



2. Decide what you need - Train Pass or point-to-point tickets:
Point-to-point train tickets are ideal for single journeys and travelers who have a pre-planned fixed-itinerary trip around Europe. On the other hand, If you intend to clock up a fair long mileage and (crucially) want to stay completely flexible, then a rail pass is most likely the best choice for you.


There are several types of
European rail passes to choose from (link here)
. The right rail pass for you depends on the number of countries you want to see. There are different varieties of passes: based on your t
otal duration of travel, whether you're a European resident or not, age
(youth discount, senior concession) …etc.
☝You must also consider that there can be an extra "reservation charges" even if you have the rail passes. Particularly, every intercity train from/to France, Italy or Spain mandates the
passholders must also pay a reservation fee in addition to buying the passes
. Heard that Paris-Amsterdam intercity too requires an additional fee. So, consider all these facts while deciding whether to buy a Rail Pass or get tickets to the station on the flow.
3. Check for the need to validate / Check-in:
Many train tickets need to be validated (more like a check-in) before entering the train. There are machines at the station where you just show/insert your ticket. Some machines may print the date/time on the ticket, some just register your details into the system.
You should always check whether the validating procedure is required for your ticket
(this is mostly depending on which country you're traveling; heard that
Italy
is very strict on this). That's because most regional tickets can be used any time in the 60 days from the date you bought it for, and date-stamping it on the validating machines prevents people fraudulently using it on multiple occasions.
If you're found traveling without validating the ticket, you have chances of receiving "huge" penalty in addition to the plenty of emotional agonies you'll go through😞. By chance, if you miss to check-in and board the ticket, you should immediately meet the ticket checker and inform. He can do it with his checking machine or will advise you to check-in in the next station. But don't wait till he comes to you and checks the ticket.
4. Locate the platforms and plan your transfers:
Changing trains/ platforms may sound like the simplest thing, but that's not the case everywhere. There are many mega-stations with 50+ platforms within Europe, you may be surprised to know that the platform your next train is leaving from is quite a walk or run (depending on how much time you have😜).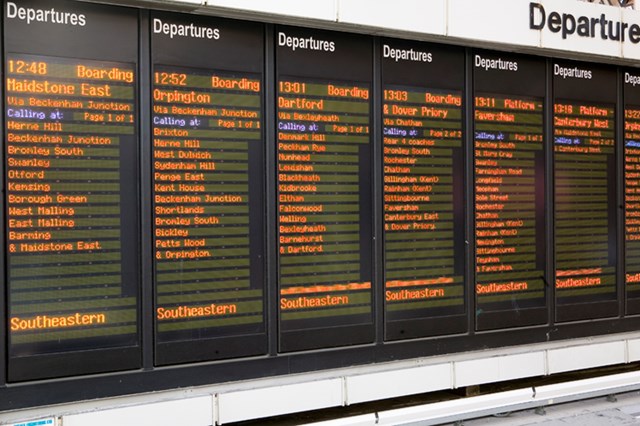 Another tricky thing to consider is the "location" where the platform numbers and train schedules are published. Usually, they'll be displayed everywhere in big stations; but in many small/medium stations, these "magic" boards will be
available only at the station entrance
. So, you'll have to make a quick walk/run to the entrance.If you're on a bit of bad luck, you may encounter "
last minute" platform changes
too. It is always better to accommodate at least 30mins for the platform changes/transfers.
5. Carry your travel documents all the time:
Many European countries require you to carry official I.D. with you while traveling, and
a driver's license from another country doesn't count!
😜This means that, even though you're unlikely to be checked, you must have your passport with you always and may have to show it to the train conductor when asked.
I must also stress another fact here:
carrying your passport everywhere with you increases the odds of losing it or having it stolen
(this happens a lot in metro cities). Many people prefer to keep the passport and other valuables locked in a hotel safe. But when you're caught by the train conductor/customs, you must be ready to convince them to go and get it from the hotel.
6. Reserve (or grab) the Window seats
Call me crazy, but I can't stop my craze for the window seats. Most of the rail routes in Europe are so picturesque; just sitting in the carriage and looking out the window may be one of the best things to do. The trains will treat you to beautiful mountains scenery and sparkling lakes, as they pass you by from the comfort of your seat.
7. Pack lightly
There's no baggage weight limit for most of the trains, you can bring as many carry-on bags as you can place underneath your seat or in the baggage rack above. But I would still say "
the lighter your bags are, the happier you'll be
". Not all the station platforms are equipped with
lifts and baggage carts,
your big bags may turn as a pain to move around fast and comfortable. You don't want to miss a connection train just because you couldn't transfer your luggage!.
8. Prefer Overnight Trains for long travels
If you're traveling long distances, the night train can be useful. It's a unique experience, not saves a lot of money all the times ( In fact, some night trains charge you a bit of extra cost), but still, you'll most likely save money compared to a night in a hostel/hotel😜, and very importantly
you save the "day" time
- which is precious for sightseeing and other activities.
9. Think about your food too
J
Long distance trains often have restaurants or cafe cars. Medium distance trains may rely on a cart carrying sandwiches, snacks, drinks, and coffee. But
most regional trains often carry no food or beverages
. Best bet is to bring your preferred food before boarding the train or check out the stores at large train stations which will have a variety of options to take on the train and
it'll probably be cheaper and tastier
than the stuff they serve from a cart. Never rely on the onboard service, you'll have to stay hungry then.
10. Sleep comfortably, but with caution
Last but not the least: the safety of you & your belongings. It doesn't matter how wonderful your vacation was, a stolen or lost luggage can easily ruin your entire vacation experience. Unfortunately, the
theft of luggage from trains is a common and increasingly ongoing problem
. The more stops on your trip the more chances of theft. So always pay attention to your valuables.
That brings to the end of my list and I hope they'll be useful in your Europe train adventure! Do you have any other essential information? Please leave a comment.